The media can lead critical intervention to combat the structural drivers of the gender crisis.
This was the consensus during a panel discussion called Lessons Learned in Covering Gender at the recent fraycollege of Communications and International Women's Media Foundation (IWMF) Gender Justice: Taking forward the lessons learned in-person conference.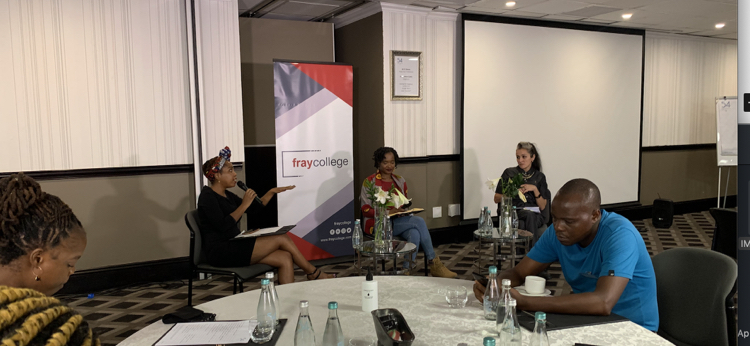 Technical Advisor for the German Development Cooperation (GIZ) and UN Women Luxolo Matomela said: "Interventions are necessary in a whole of society approach and media becomes critical because that means you start to shape perception, storytelling and ideas around patriarchy, sexism, what we have identified as the structural drivers."
In South Africa, the latest crime statistics between July and September 2021 revealed that over 9 500 gender-based violence cases were reported alongside 13 000 cases of domestic violence.
"During the quarter, 897 women were murdered, 64 more than in the quarter from the previous year – an increase of 7.7%. Sexual offence cases increased by 4.7%, with 9 556 rapes between July and September up 7.1% from the previous year's second quarter – 8 922," read a news article. 
A Gender Links media monitoring study conducted in 2019 found that Southern African media does not reflect the issue of gender-based violence (GBV) with only 2% of the news stories covering the issue.
Health journalist and editor Laura López González said stereotypes purported by the anecdotal coverage of GBV contributed to the problem of GBV and many of the sources the media used could be regarded as "privileged".
"If you're always going for that case study and you say this is what happened and leave it and that's where you always leave your coverage, you run a risk of contributing to those stereotypes," López González said.
Through training, funding, and personalised support the IWMF's Gender Justice Reporting Initiative is aimed at enhancing coverage of gender issues in South Africa and Uganda to increase the volume and quality of reporting on women and other traditionally marginalised voices.
The programme seeks to produce accurate, nuanced and inclusive reporting that addresses critical information gaps and challenges well-established, misogynistic narratives in the news media.
Speaking on strides made by IWMF Gender Justice Initiative participants, session moderator fraycollege lead facilitator Mamaponya Motsai said that though there was much that was learnt and achieved there was still a lot to be done in achieving gender justice.
"The programme might be ending today officially, but the work continues," she said.
 López González said though language has gotten better, it is the low hanging fruit of gender-sensitive and gender progressive news coverage.
"It takes much more work to develop those muscles of pulling out that context, of framing an issue correctly," she said.
Highlighting the importance of using accurate language, Matomela questioned headlines and the use of improper language arguing that this has the effect of trivialising the story before the hard structural drivers can be unpacked.
"I recall in 2020 reading stories where the headlines were "Sex Scandal" and "Sexual Misconduct" in a story that involved a woman perpertator and five underaged boys at Bishop Dyneisan College," Matomela said.
Some internal media challenges hampering the production of more nuanced stories when it comes to gender include time, money, energy, seniority, experience Mtomela teased out.
"That all has an influence on the kind of story you can tell," she said.
López González said that though these constraints were limiting, the return on investment on nuanced and solution-based journalism was much higher for longer.
"If you're able to pair a narrative with a story that not only told the reader that something happened but why it happened, I got more hits on the story for years to come. My return in rands was much higher but I needed to be able to make that initial investment."
Making GBV stories appealing
In her story "The UK just slashed funding for contraception worldwide. Women in Zambia will pay the price" published in May 2021, López González looks at the consequences for the communities from having a vacuum in contraception services. 
This approach is an example of what she describes as expanding to give a wholesome account of intersectional systemic issues that contribute to issues such as teenage pregnancy.
"Unless you are going to tell the story [of teenage pregnancy] within the context of how often that neighbourhood has contraceptive stockouts, what is the availability of pregnancy termination in that district […] she no longer becomes this illogical woman, her choices seem very logical when you realise her clinic has not had contraceptives in 6 months," she said.
"But you have to do the work of expanding out otherwise you run the risk of contributing to these stereotypes again and again,"
Matomela said that to make gender stories more appealing about the phenomena of GBV began with locating the story where it is reflective of data.
"One way to make it sexy is to start asking where the story really is? Is the story in that headline that says seven men gang-raped a woman while walking home? Or is the story a little more nuanced in that it's everyday stories that happen in homes all the time which is what the statistics tell us?" she said.
"From the little research we did on audiences, we found that audiences like to see themselves. They like stories that reflect the realities that they are living in."
She added that changing angling can yield fresh angled stories that answer structural questions.
"These perpetrators are made invisible. If you simply run a story about who are the perpetrators that are perpetuating under age statutory rape that already makes a fresh angle that i am yet to see in mainstream media."