The idea that South Africa does not have capacity or knowledge is a myth.
That is according to South African born biotech billionaire Dr Patrick Soon-Shiong.
Speaking at the Bloomberg Africa Business Media Innovator (ABMI) Chats series, Soon-Shiong shared key insights on the media landscape, AI and health technologies and investment outlook for the continent.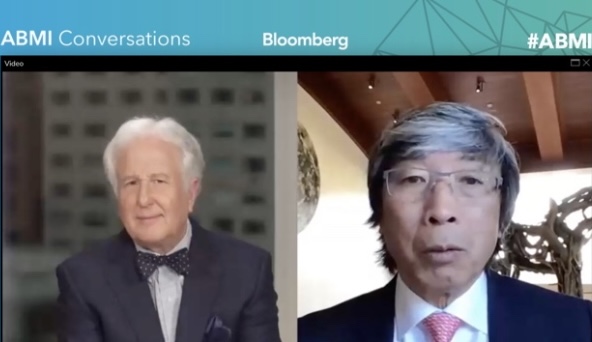 While Africa's media market has tripled in value in the past two decades, journalism has been a hard hit industry with some of the lowest acquisition cost in 2021.
This was the view of Bloomberg host Matthew Winkler who is a co-founder and former editor-in-chief of Bloomberg News.
Soon-Shiong who is also a recent owner and executive chairman of the Los Angeles Times and San Diego Union Tribune and said he was concerned about the closure of many local media publications both in the US and Africa.
He believes journalism for the most part has been usurped by digital technologies but newsrooms need to leverage digital advancement to diversify.
"We need to sort of fight back and what we're doing at the LA Times is taking a newspaper into a news media.
"We had to at least take advantage of the brand and most importantly the fact that it is a trusted source of information and really important journalism, adding opinion and entertainment," he said.
Shoong-Shiong said Africa's people are relatively advanced digitally and "ahead of the curve" in some industries but more development is needed.
"They are a little more advanced on the digital side, I must say. Digital money, banking and digital media," he said.
"We can leapfrog Africa in many ways, in the ways they have taken banking, media and telecommunications to a different level, just like Bangladesh took Wi-Fi rather than the wireline and took media to a different level and now with pharmaceuticals," he added.
"The idea that there's no human capital, no capacity and no knowledge. I don't know what that's all about whether that's colonialism partially or racism partially but I think my goal now is to break that myth," he said.
In January 2022, the US-based business man launched the NantSA vaccine manufacturing campus in Cape Town which is a venture Soon-Shiong says is proof of local skills.
"This venture is actually to break this myth that there's no human capital and no insight in the nation," he said.
Soon-Shiong said he returned to the continent to invest in vaccine production in order to localise and power pharmaceutical production to build capacity and self-reliance in Africa.
"The whole concept of the continent is the materials as being there as a resource but self-reliance has not been built as a consequence of it most of these have been exported and utilised elsewhere," he said.
Developing drug and vaccine manufacturing facilities and capability is a critical mission that can ensure complete self-reliance for South Africans, especially with diseases that uniquely affect Africa, Soon-Shiong said.
In June 2021, South Africa gained global attention when the World Health Organization (WHO) announced its support for a South African Consortium to host the first ever COVID-19 mRNA Vaccine Technological Transfer hub.
"If we can convert to self-reliance not just raw materials, banking and telecommunications but also the whole new industry of pharmaceuticals, where there's complete self-reliance for the entire population for diseases that affect Africa as a continent that is not consistent with some of the diseases that affect North America and developed countries," he said.
The Bloomberg ABMI Chats series is an initiative convened by Bloomberg Philanthropies. The virtual series brings some of Africa's media and business leaders to share insights and perspectives on the current media landscape in Africa, business and finance, the pandemic and its impact on healthcare systems and an investment outlook for the continent.