May 3 marks 30 years since the UN declared the first World Press Freedom Day.
It commemorates the importance of upholding journalists' rights to work freely and safely in their respective countries.
This year's theme is "Shaping a Future of Rights: Freedom of expression as a driver for all other human rights" and seeks to raise awareness around journalists' right to freedom of expression and their role in enhancing and promoting human rights.
In the face of several global crisis, media freedom, journalist safety, and freedom of expression, as well as other human rights are increasingly under attack, and today is an annual reminder to governments, policymakers, journalists and activists to stay committed to reducing and preventing the challenges that journalists face every day.
In Africa, press freedom varies significantly.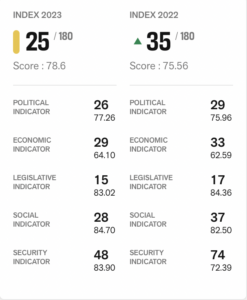 The 2023 World Press Freedom Index by Reporters Without Borders shows that South Africa ranks 25 out of 180 countries for press freedom. In terms of journalist security, South Africa ranks 48 and 26 in the political indicator.

"South Africa guarantees press freedom and has a well-established culture of investigative journalism. In recent years, journalists have often been subjected to verbal attacks from political leaders and activists," according to Reporters Without Borders.
Egypt (166), Libya (149) and Sudan (148) are among the lower ranking African countries when it comes to press freedom on a global scale.
According to an analysis on press freedom in Africa in 2023, disinformation is still rife in parts of sub-Saharan Africa, and there are still many regions that are high-risk for journalists to work in. Many have been killed or detained without justice.
Overall and out of the 180 countries, data shows that: "the environment for journalism is "bad" in seven out of ten countries, and satisfactory in only three out of ten."
Read about it here.
Also, check out Thomson Reuters Foundations' TRFilter tool to help journalists and media practitioners document and manage online harassment and abuse.