One hundred episodes later, Frayintermedia's CEO, Desmond Latham's podcast, History of South Africa climbed the ranks and is sitting at number one on Apple Podcasts in the SA history category on Chartable.com.
Latham launched the podcast in 2021, and in less than two years, his listenership reached over 500 000, gradually climbing the ranks, recently entering Top 20 territory, and now number one!
Noting the progress and uptick of the listenership, in his latest and 100th podcast shared on Saturday, Latham said: 'it's exciting to see how many people are interested in this unique place called South Africa, with its crazy paving history and characters that Edgar Allan Poe wouldn't dream about in a thousand years.'
(For those who don't know, Edgar Allan Poe was an American poet, writer, and editor. Listen to Des's podcasts and you'll learn more 😀).
The History of South Africa podcast takes a deep dive into South Africa's lesser-known history starting in pre-history, then covering early hunter-gatherers who were carving our history and stories into the rocks. The pre-colonial period is also featured, and Latham describes in the first ten podcasts about these ancient societies pre-Jan van Riebeek.
He also delves into the stories and battles between the Dutch and the Khoi, Shaka Zulu, the fight between the French and the English over the Cape, and so much more!
Check it out here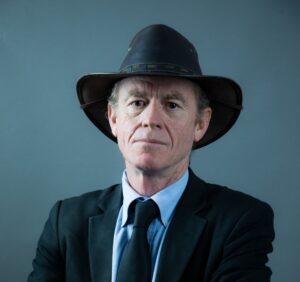 Latham has a background in journalism, communications, media training, multimedia, broadcasting and podcasting. He's an African History student from Rhodes University with a degree majoring in History in 1985, so he's got the knack for this kind of stuff! He's well-versed in isiZulu, isiXhosa, Afrikaans and basic French.
Ahead of his weekly podcast, he spends between five and 10 hours researching these topics to produce a 3500 – 4000 word script – which is about 20 minutes of solid information narrated with energy and enthusiasm.
What's more? He also hosts four other podcast shows: South African Border Wars, The Anglo-Boer War, The Falklands War, and the Battle for Stalingrad – all of which can be found on Spotify, Apple Podcasts, Anchor and Google podcasts.
Read more on his blog here.
In closing, Latham thanks all of his listeners for their support and encouragement. Keep an eye (and ear) out for his next big thing.
Congrats, Des!